! -- *%%%%%%%%%%%%%%%%%%%%%%%%%%%%%%%%%%%%%%%%%%%%%%%%%%%%%%%%%%%%%%%%%%%%%%%%%%%%%%%%%%%%%%%%%%%%%%%%%%%%%%%%%%%%%%%%%%%%%%%%%%%%%%%%%%%%%%%%%%%%%%%%%%%%%%%%%%%%%%%%%%%%%%%%%%%%%%%%%%%%%%%%#, .%%%%%%%%%%%%%%%%%%%%%%%%%%%%%%%%%%%%%%%%%%%%%%%%%%%%%%%%%%%%%%%%%%%%%%%%%%%%%%%%%%%%%%%%%%%%%%%%%%%%%%%%%%%%%%%%%%%%%%%%%%%%%%%%%%%%%%%%%%%%%%%%%%%%%%%%%%%%%%%%%%%%%%%%%%%%%%%%%%%%%%%%%%%%%%%%%%# %%%%%. *%%%%* (%%%( %%%% %%%% #%%% %%%% ,#(##########(/*. .###########, ,###################### (####### ,#############/ ####### #######, ###########/ (#######. #%%% %%%% ,###################( #############. ,###################### (####### ( (#################( ######### #######, #############/ ########. #%%% %%%% ,#####################/ ############### ,#####(################ (####### *%%%/ ################### ##########( #######, (##############. ########. #%%% %%%% ,#######/ ######## ########.######## .######(# (####### %%%%%%%. #. (########( ############# #######, *#######,######## ########. #%%% %%%% ,#######/ (#######. /#####(#. .#######( .######## (####(* %%%%%%%%%%%. (#######/ ############### #######, .#######* ######## ########. #%%% %%%% ,#######/ #(##########/ ,#######, *#######/ .######## (###( /%%%%%%%% ,############## /###################, #######( #######( ########. #%%% %%%% ,#######/ ##########/ #######( /#######. .######## (####### %%%%%%%%. /#######(## *#####/ #(############, ######## ,#####(#/ ########. #%%% %%%% ,#######/ ##(####### ######## (############# .######## (####### /%%%%%%%%%( /%( #######. #######/ (###########, (####### ,#############, ########. #%%% %%%% ,#######/ ########* ######## *(############## .######## (####### .%%%%%%%%%%%%%%%%%%* ###, #######/ (#########, /#######,.###############. ##################( #%%% %%%% ,#######/ ################, .#######( .######## (####### .%%%%%%%%%%%%%%%%%%. #######/ (#######,,#######* ######(# ##################( #%%% %%%% .*******, **************, .*******, ******** ******** (%%%%%%%%%%%#. *******, ******.******** *************************** #%%% %%%% #%%% /%%%# %%%% #%%%%/ %%%%%. #%%%%%%%%%%%%%%%%%%%%%%%%%%%%%%%%%%%%%%%%%%%%%%%%%%%%%%%%%%%%%%%%%%%%%%%%%%%%%%%%%%%%%%%%%%%%%%%%%%%%%%%%%%%%%%%%%%%%%%%%%%%%%%%%%%%%%%%%%%%%%%%%%%%%%%%%%%%%%%%%%%%%%%%%%%%%%%%%%%%%%%%%%%%%%%%%%* -->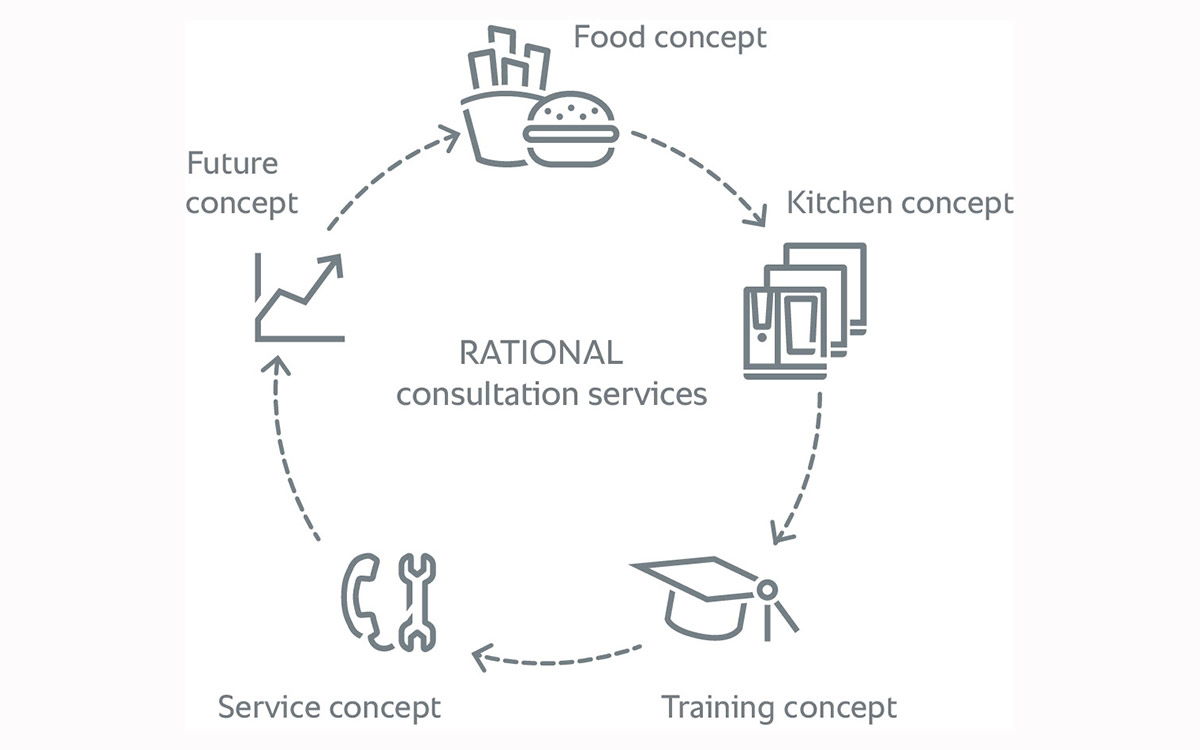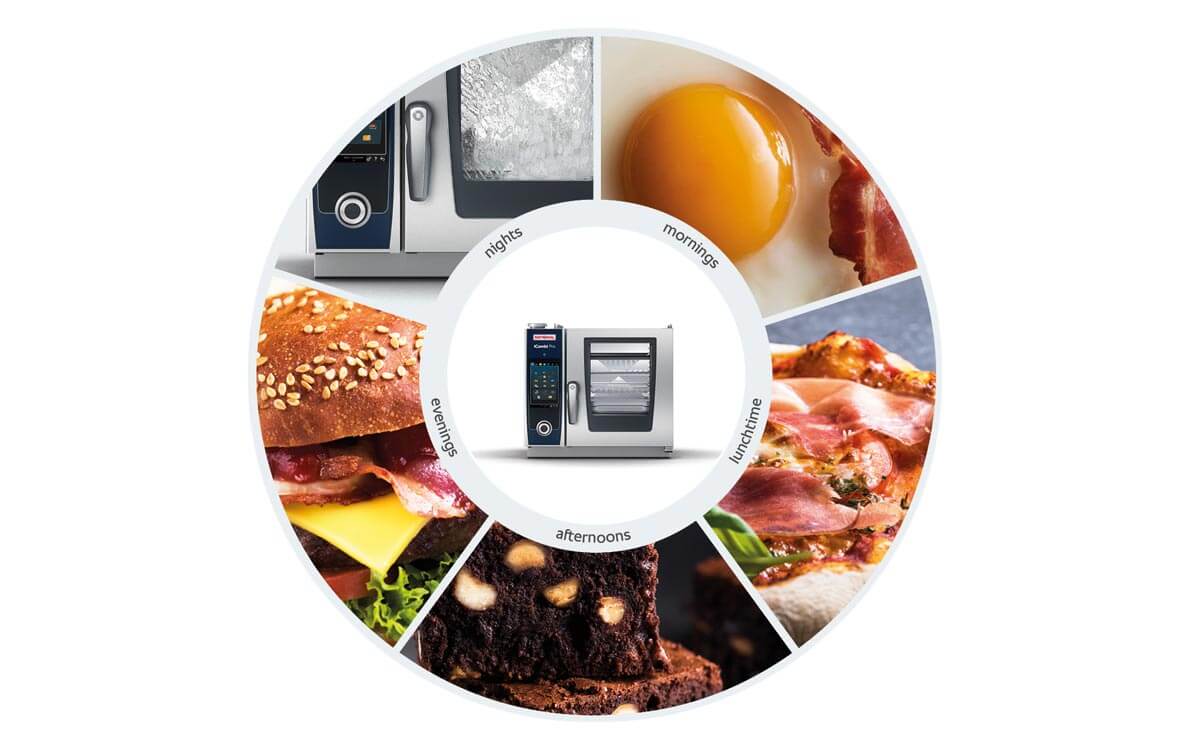 Convenience products
Here too, the iCombi Pro never loses sight of the desired result and will adjust the settings independently. With the iProductionManager for example, which tells you when you can prepare your specified foods. So that your guests are served quickly, with precise perfection and always to the same standard of quality.
Frozen
The iCombi Pro is so powerful that even frozen food is cooked in no time. Finally, the cooking system recognises the condition and size of the food and adjusts the cooking process accordingly. The result, everything is always consistently high quality.
Freshly cooked
Steak or fresh vegetables are normally a challenge for untrained staff. In the iCombi Pro, however, the cooking path is already created for this and many other products, so that it does it all by itself with its intelligence, there is nothing else to do in the kitchen.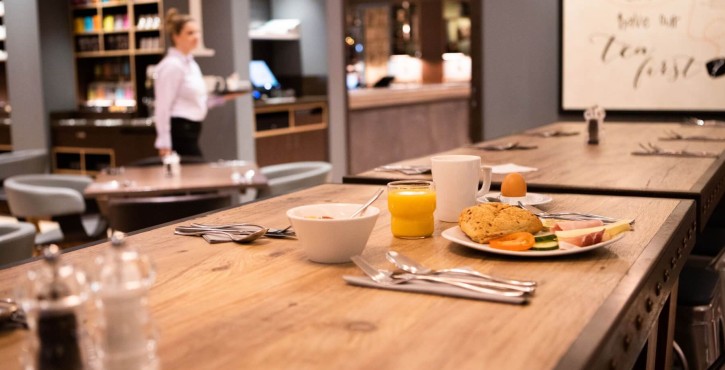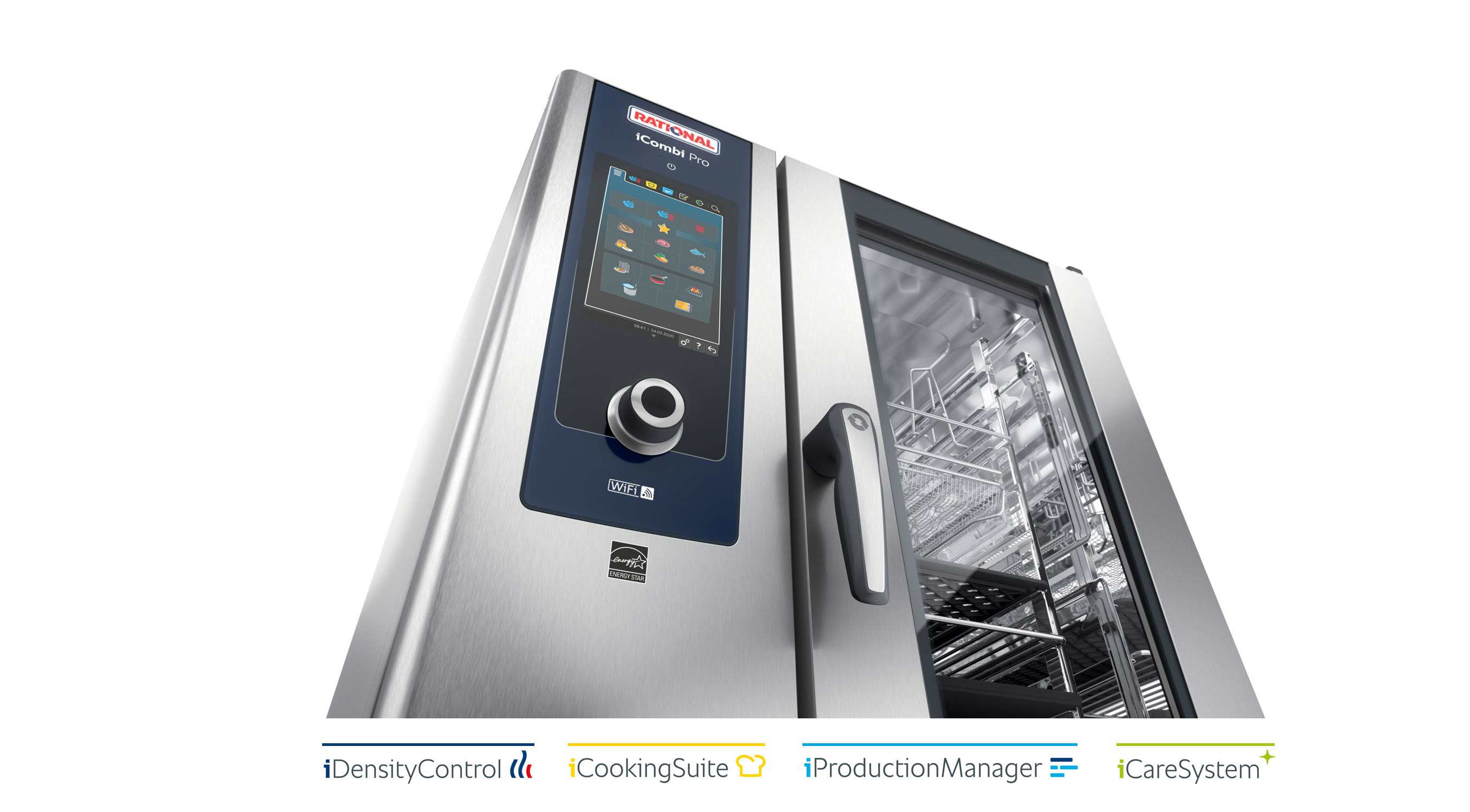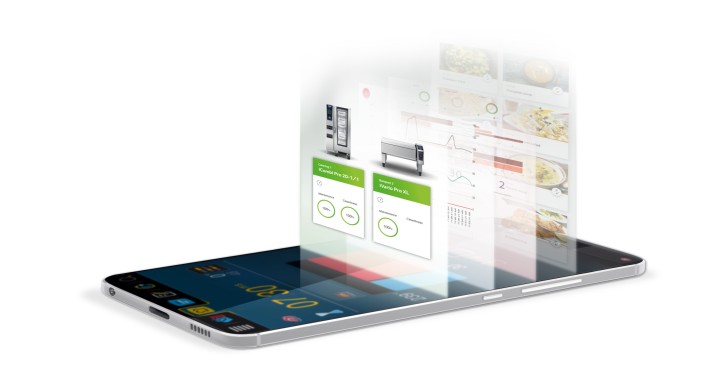 ConnectedCooking.
All under control.
Networking technology is an important function in hotels; booking system, billing, HR planning – it all runs digitally, and it is all synchronised. Just like ConnectedCooking by RATIONAL. Recipe transfer, unit control, hygiene data, software updates and service remote access with the secure networking solution you can control everything from your desk. For all connected RATIONAL units. All over the world. You can also access and save HACCP data from all cooking systems. Do you have a new menu? They can also travel around the world at a click. All you need is a PC, smartphone or tablet. Standardisation does not get easier than that.
ConnectedCooking
Powerful networking by RATIONAL. Always keeps everything under control.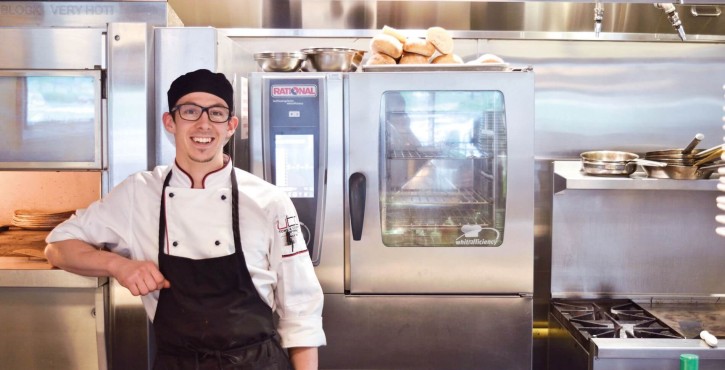 RATIONAL Service
We've thought of everything.
At RATIONAL, service is included. From the initial consultation, the test cook, test unit, installation to the worldwide training and automatic software updates, and ChefLine - the telephone hotline for individual questions. You can also attend training on various subjects, such as finishing, at the Academy RATIONAL. The worldwide RATIONAL Service team is always close at hand in case of emergencies.
All with a single objective:
Ensuring your investment pays off in the long term, that you always get the most out of your cooking systems and that you never run out of ideas.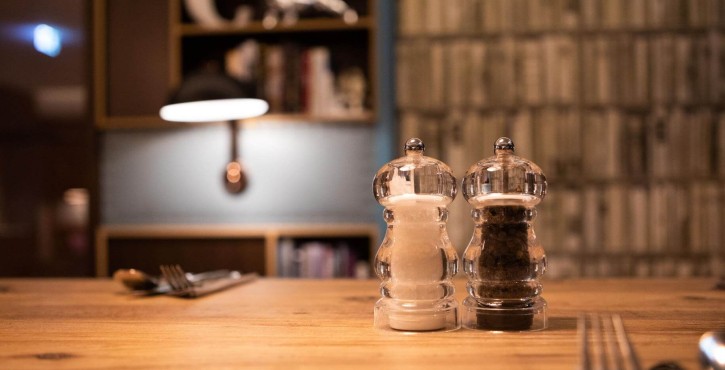 Step by step.
Shaping the future together.
In the hotel business, anyone who is not one step ahead today will have no more guests tomorrow. It is becoming more and more important to regularly revise concepts, generate input and implement new ideas. This applies both to room design, breakfast or the bar. This is precisely why RATIONAL is there for you. With know-how. With the necessary expertise. With many new ideas. Always on the basis of what has already been created together.
What does the future bring?
A whole lot of new ideas and concepts, so that you can continue keeping your customers happy.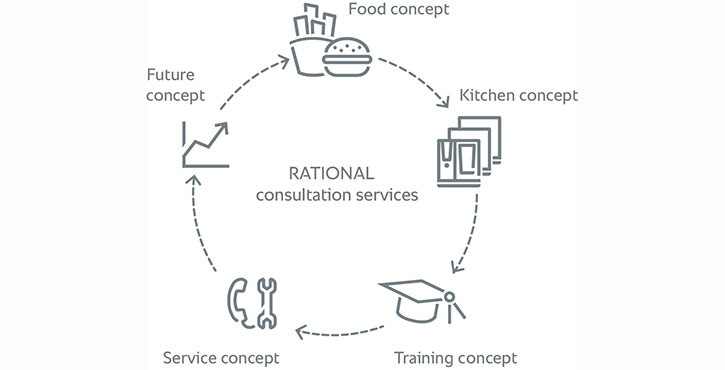 Individual consultation services for your hotel.
Take advantage of our know-how.
Whether a comprehensive consultancy, concept creation or maintenance contract, for one or multiple hotels - RATIONAL is an experienced partner when it comes to supporting limited service hotels. You can use the whole service cycle or just one of the points listed. You can also enter at any point in the cycle. Interested? Then the RATIONAL hotel experts look forward to receiving your email at